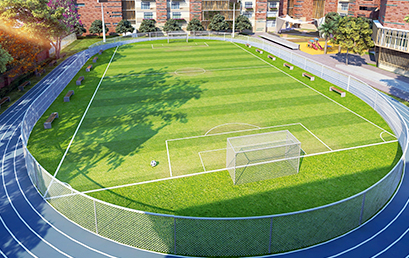 Research has indicated the significant benefits of a green environment on the physical and psychological health of a child. Hence, the existing concept of green space in schools is now gaining more importance.
"The best education does not happen at a desk, but rather engaged in everyday living – hands on, exploring, in active relationship with life." ~ Vince Gowman
To take this proverb forward, best of CBSE schools in Gurgaon are approaching the green space concept knowing the myriad benefits of natural surroundings in school children. Another reason for bringing in the outside world into the classrooms is that the CBSE curriculum emphasizes on the physical education. The Central Board of Education (CBSE) has made Physical Education compulsory from April 2019 with the aim of the holistic development of a child. This means all CBSE schools will now have a daily sports period for classes 1 to 8.
With reference to this resolution, the CBSE board has released a circular that states & quotes, "The board has decided to implement Health and Physical Education (HPE) programme for classes one to eight w.e.f. session 2019-20 onwards, with the aim of holistic development of the child, leading to a well-balanced individual in all walks of life".
Schools like The Blue Bells School for integrated learning, have taken the best from different curriculla and created its own learning methodology which is geared for optimal physical development and intellectual stimulation in the children. The new 5-acre campus in Sector 50, Gurugram, is a LEED-certified Platinum-rated green building which creates an ideal learning atmosphere – environment driven.
Physical education is a critical component that contributes to the holistic development of each and every child. And nothing can serve the purpose right than the greener surroundings or other green spaces for a child.
To understand this better, let's evaluate the concept of green vs. non-green spaces.
Students in schools that have less or no access to open green spaces develop anxiety issues, leading to stress.
While CBSE schools like The Blue Bells School, which have left no stone unturned to increase the green environment in the campus have seen a positive impact on the cognitive development of the kids. Such open spaces also encourages physical activity and social interactions within students.
Children who are busy focusing only on academics and enjoy less of playtime suffer from obesity and related issues from an early stage of life. They also tend to become fussy eaters and eventually have low immunity levels
Whereas children who are closer to nature are found developing healthier eating habits, are fitter and develop far better immunity
Studies have found that green space offers significant benefits to the mental health for young children. When kids study in a combination of indoor and outdoor infrastructure they learn better. Connecting green spaces with learning is what The Blue Bells School has consciously focused on. Hence, there is ample sunlight-filled classrooms with a 5-acre expanse of green spaces, play areas with lots of trees, plants and flowers.
Schools with less greenery and outdoor spaces may affect children in terms of educational development. Moreover poor air quality, reduces attentiveness and slows memory.