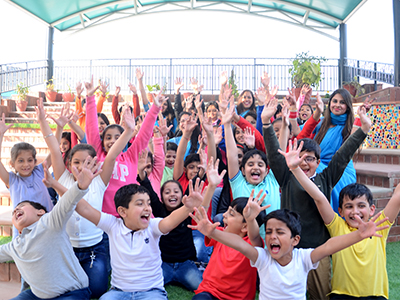 Communities play a remarkable role in a child's education. It is through community engagement that a child learns to build stronger connections and starts to understand group support. Top schools in Gurgaon are therefore increasingly focusing on developing special programmes and opportunities with a view to fostering community spirit in children.
According to a survey – policy brief of the National Education Association (NEA), "when schools, parents, families, and communities work together to support learning, students tend to earn higher grades, attend school more regularly, stay in school longer, and enroll in higher-level programs".
(https://www.pridesurveys.com/index.php/blog/community-involvement-in-schools/)
Community involvement has shown significant benefits, both long term and short term for kids. It gives them a sense of belonging and helps them build a stronger identity.
Here are 4 incredible effects of fostering community spirit in children:
1. Optimistic Approach: Being optimistic, fosters a sense of identity in children. It motivates and stimulates them to be efficient and productive. The best CBSE schools in Gurgaon encourage students to be optimistic about life in general and hence respect the community around them.
2. Friends Forever: When children work as a team, they tend to become friends. In this process they start building their own company Over time this friendship grows stronger and can last a lifetime. They are also less affected by failure or shortcomings as whatever task they do, they do it as a team.
3. Feel and Show Empathy and Thoughtfulness: Community spirit is all about promoting empathy and thoughtfulness. These two emotions are very vital for young children to be successful in their lives.
4. Anger-Management: Community spirit helps in dealing with stress issues within young children. During disheartening moments, it is togetherness that helps children to keep calm, not stress and keep anger under control to support each other.

Here are some ideas that will help you teach your child all about community spirit:
Teach them the golden words of politeness such as "hello", "please", "thank you" and "excuse me".
Encourage them to chat with their elders, especially with their grandparents about their childhood days. Let them learn through experiences of people around them.
Give them time to enjoy the company of their relatives or family friends. Ensure that your children feel safe with them.
Take them for a walk in your neighbourhood.
Teach your child to hold open a door, get-up and give their seat, be considerate of others. Emphasise on the importance of respecting people.
Community spirit can help foster growth and nurture positive experiences, which are vital especially in early childhood. Every positive impact that is made on the playground, in the garden, at school, at the community centre will create a stronger, healthier and happier kid.
Happy parenting! 😃